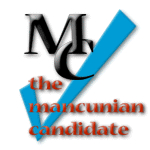 All aboard the Night Train...and we don't mean Cisco Red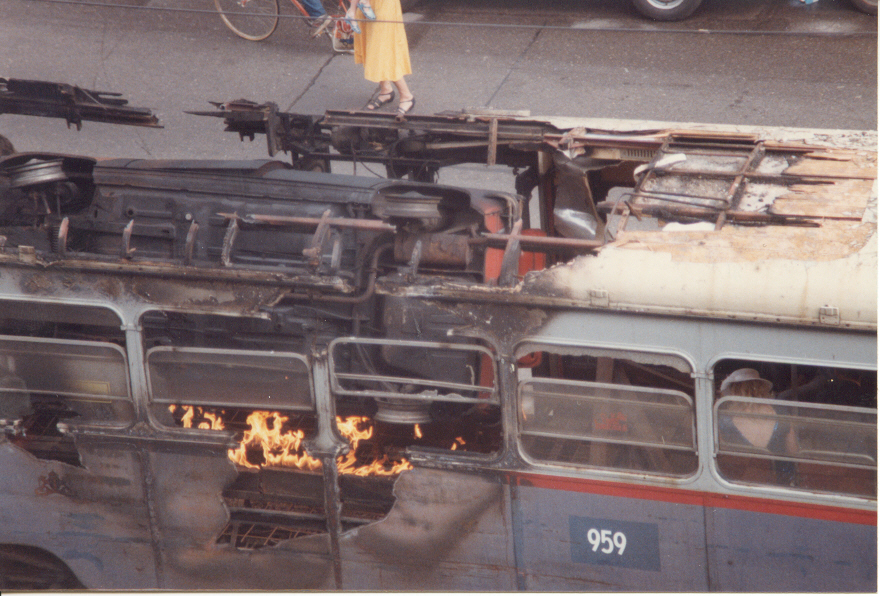 Actual photo of the Tram to the 9th Circle of Cobism (taken in Amsterdam, July 1987)
We here at Manc HQ are the only true believers. After all, there is only one true way to combat the Great Satan. Therefore, it is our duty to tell you that "Cobism" is not a doctrine, it is a way of life!! There are in fact 11 not 9 stages which must be reached before you can reach the ultimate stage of Cobism. In order, these are:
1. Cobi Free
Those in the Cobi Free stage are: Kathy Lee Gifford, Daniele Steele and the immensely popular television show, "Touched By an Angel"
2. Cobi Lite
This stage is a bit tricky, but we chose John Tesch and Jackie Collins to represent it. John Tesch, the former Entertainment Tonight host, sells billions of the "Cobiest" records ever made. Check out Live at Red Rocks at your nearest online retailer if you are not aware of it. However, Mr. Tesch makes it to the next stage of Cobism simply based on his appearances on the Howard Stern show and his admission that he is "laughing all the way to the bank". He also does not get flustered when Howard calls him "The Blond Frankenstein".

Jackie Collins makes the list because she is Joan Collins' sister. She makes Danielle Steele look like Cervantes.
3. Diet Cobi
Most unequivocally, Rush (the band not the sensation you get when you sniff glue) makes this list. Since we are on the Romance Novel theme we will include Jackie Suzanne, for it is she...not Superwoman....who inspired "Beyond the Valley of the Dolls".
4. Atkins Diet Cobi
Paradoxically, this includes all those Vegan Non Smoking Californians. It may explain why they elected The Terminator as their Governor. What's next? "Hasta La Vista Pasta?"
5. Mariscal
Click here to attend the Birth of Cobism.
6. Cobi Classic
This is a special category for things you loved....then you hated....and that you now love again. Paragons of this virtue are: Eurovision, Velvet '70's Elvis, Liberace, Cat Stevens and Elton John.
7. Electric Technicolor Cobi
Andrew Lloyd Weber's Starlight Express and the Olivia Newton John vehicle Xanadu
8. Ultimate Cobi
Just when you thought it was getting cool to be Cobi....you go back to being Barney!!! (The Purple Dinosaur not the "Purple Pill").
9. Xtreme Cobi
The Teletubbies (with a special Queer Eye for Tinky Winky).
10. Gourmet Cobi
Jeff "The Frug" Smith, Chef Boyardee and Franco American too.

Now when you have gone through all these stages, there's only one left.

Drumroll please.....
11. Anarchist Cobi
We deliberated for hours trying to come up with a poster boy for this exalted state of Nirvana. The 12 Angry Samoans of the Desert finally had to de-sequester themselves and get the hell out of that Holiday Inn Cambodia, so they finally chose.....Ignatius J. Reilly. There's a reason his first two names were John Kennedy and his third name was "Toole". He was a tireless crusader against vice in the French Quarter whose epic saga recalls Don Quixote of LaMancha. "I'm Fortuna!!" (offical cigarette of the Spanish Civil War. UK Residents Order Here. Sorry had to get that commercial in.).
A word from our sponsors:
I guess you are wondering, just exactly who is this Jury that has spent the entire Christmas Holidays at the Holiday Inn? We are incorporated under the title of NAACP (The National Association for the Advancement of Cobi People). Let us introduce ourselves.
1. Kim Jong Deal
2. Baghdad Bob
3. Ed Wood
4. Regis Philbin
5. Micky Dolenz
6. Gary Coleman
7. Ringo Starr
8. Paula Abdul
9. Mr. Bean (not Rowan Atkinson)
10. John McEnroe
11. Paul Lynde (The only Center Square in an endless parade of Hollywood Squares.)
12. Lorenzo St. Dubois
Sorry there's more. It had to go to thirteen because we would have had a tie. (Coming soon "Beyond Cobi")
13. Mookie Wilson.
If you would like to be a member of the NAACP jury, please send us your application. Just click on "E-mail the Dictator Tots". AOL users: Keyword "Popstars".