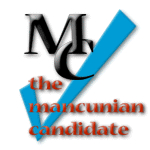 Holiday Recipes Anyone Can Make
***Since hundreds of you wrote in to thank us for our Exploding Plastic Inevitable Holiday Turkey Recipe, we have moved it here, even though the holidays (but not Hitler) are finally "Kaput". See: Stuffing a la Chateau Blanc. It is exactly what was served at the Maison Blanc last Christmas....Oooh La la!
Our wine suggestion? Cisco "Red". (Yes that is a flavor. Don't go for "Peach". It tastes like formaldehyde.)
*We are not making this up. The food and Wine Critic at Great Hoboes has written a wonderful article about the various fortified wines and their experiences closely mirror our scientific experiements.
FROM DALI'S KITCHEN
In Dali's 1973 cookbook, "Les Diners de Gala," Dali and a French chef - who collaborated with him but insisted on remaining anonymous - came up with real recipes using Dali's eccentric food favorites, from frogs to pigeons to shellfish. The dishes were then photographed atop elaborately - and gaudily - decorated tables.
Here are a few of the book's recipes, which Dali and his wife served when they entertained. The directions may sound a little eccentric, but that's how they were written in the book. The recipes can be made in a home kitchen.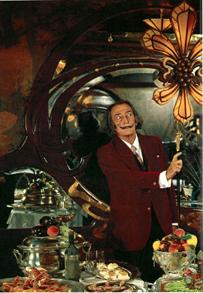 CRAWFISH CONSOMME
2 ¼ pounds shrimp
2 quarts of water
Cayenne pepper
2 tablespoons paprika
Saffron
1 pound veal, chopped
4 cups rice
4 egg yolks


Put water, salt, a dash of cayenne pepper, paprika, saffron, chopped veal and rice in a large pot and heat to a boil.

As soon as this broth begins to boil, crush your shrimp with a mortar, one after the other. Be sure to really crush them to a pulp and add them progressively to the broth. Keep it boiling for 45 minutes.

The broth is then strained through a sieve (push with a wooden spoon to get all the juice out). Put the broth back on the stove and stir in the egg yolks, without letting the soup boil. Your consomme is ready.

"May I suggest that you serve it with thin garlic toasts," the book states.
CAULIFLOWER WITH ROQUEFORT
1 cauliflower head
1 quart water
2 chicken bouillon cubes
1 tablespoon vinegar
1 cup rice
1 tablespoon butter
2 tablespoons flour
7 ounces Roquefort cheese
3 egg yolks
1 egg white
7 ounces butter
Pepper to taste


Wash the cauliflower thoroughly; remove any green leaves and crushed parts; however, keep the cauliflower (head) whole. Put in water with the bouillon cubes and vinegar.

Bring to a boil, slowly, let it simmer very gently for 10 minutes. Then shut off heat. Covered and soaking in the water, the cauliflower will continue cooking. This cooking process is very delicate so that the head does not fall apart.

Remove the cauliflower carefully after 20 minutes, and reserve all this cooking broth. Cook the rice in 2 ½ cups of the cooking broth. Add pepper.

In a saucepan, melt 1 tablespoon of butter and stir in the flour. Immediately add three ladles of the cauliflower cooking broth. When the sauce has thickened, continue stirring while you add the Roquefort cheese and cooked rice.

Off the fire, add the egg yolks, then egg white, in that order. Pour this mixture into a mold greased with butter.

Take the cauliflower and very gently remove part of the core without destroying the head. Add to the mixture (mold), leaving only the top of the head (sticking) out.

Melt the 7 ounces of butter in a saucepan, pour half of it over the cauliflower. Bake at 425 degrees for 30 minutes. Remove the mold, and using a knife, gently spread the sections of cauliflower apart and pour the rest of the melted butter between them. Serve immediately.
CASANOVA COCKTAIL
Juice of 1 orange
1 tablespoon bitters (Campari)
1 teaspoon ginger
4 tablespoons brandy
2 tablespoons old brandy (Vieille Cure or any French herbal liquor)
Pinch Cayenne pepper


This is quite appropriate when circumstances such as exhaustion, overwork or simple excess of sobriety are calling for a pick-me-up.

Here is a well-tested recipe to fit the bill. Let us stress, another advantage of this particular pep-up concoction is that one doesn't have to make the sour face that usually accompanies the absorption of a remedy.

At the bottom of a glass, combine pepper and ginger. Pour the bitters on top, then brandy and the old brandy. Refrigerate or even put in the freezer.

Thirty minutes later, remove from the freezer and stir the juice of the orange into the chilled glass. Drink... and wait for the effect. It is rather speedy.