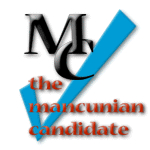 Send postcards to these people to tell them you want Howard Stern to stay on the air
The following is excerpted from www.savehoward.com
"During the week of February 23rd, 2004, not only did Infinity Broadcasting send down a zero tolerance edict to it's stations that could virtually or actually result in Howard being fired from the air, but Clear Channel removed the Howard Stern Show from six of it's stations. And all because Janet Jackson showed PART of her breast during the Super Bowl."
"As you read this, the religious right and other forces of evil are working diligently to erode our liberties are writing letters, not sending emails, but WRITING LETTERS to corporate and political decision makers who apparently are listening! They number in the thousands but Howard has millions of fans and if even 10,000 of them write as shown below then we can begin to make a difference and try to stop this nonsense!"
So send polite postcards (not e-mail which will only be "auto-deleted" anyway) to as many of the people below as possible.
Chairman Michael K. Powell
Federal Communications Commission
1445 12th Street, SW
Washington, DC 20554
(202) 418-1000

John Hogan
President and CEO
Clear Channel Radio
200 Basse Road
San Antonio, TX 78209
1-210-822-2828

Lowry Mays
Chairman and CEO
Clear Channel
200 Basse Road
San Antonio, TX 78209
1-210-822-2828

Mel Karmazin
President and Chief Operating Officer
Viacom
1515 Broadway, 51st Floor
New York, NY 10036
212-258-6000

Tom Chiusano
WXRK
40 West 57th Street
New York, NY 10019
212-314-9230

Heather Wilson
318 Cannon House Office Building
Washington, DC 20515
202-225-6316
505-346-6781

David Hinckley and Corky Siemaszko
New York Daily News
450 W. 33rd Street
New York, NY 10001

John Mainelli and Bill Sanderson
New York Post
1211 Avenue of the Americas
New York, NY 10036-8790

Howard Kurtz and John Maynard
The Washington Post
1150 15th Street Northwest
Washington, DC 20071