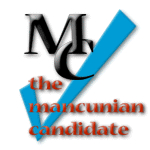 March 15, 1998. The following is a piece of intercepted correspondence regarding the the supreme dictator tot (which means "Dead Dictator" in German...like in Die Toten Hosen). Hey, we don't make this stuff up.

*******************


Oasis has an absolutely fabulous publicity opportunity coming up in Rio. It is our considered opinion that Liam, from the top of the Christ statue (aka The Corcovada) should make the following statement:
"We may not be bigger than the Beatles, but we're certainly bigger than Christ! Be here now! It may only be the Metropolitan today, but tomorrow…Maracana Soccer Stadium! Makes a lot more sense than the Beatles at Shea Stadium! I mean, they didn't even like baseball!"
There's more. At the foot of this Christ statue is a restaurant called "Churrascuria Oasis" (Estrada Do Joa 136 Sao Conrado, Rio. Tel. 55 21 322-3144). Cal them yourself if you don't believe us. We think you should assemble all the world's press there before you drag them up the foothills of the headlands for this momentous announcement. (As Paul's Grandfather in A Hard Day's Night would say: "If you don't then you're all a bunch of sissies"). Just think about it. Our Kid Liam dissing Christ amonst a bunch of machine gun-toting, Fidel Castro wannabees. If you really want to spend a lot of money, you could fly some helicopters over the whole scene and drop some promotional photos of the Beatles out the side door! Just do me a afavor and hire some stunt doubles - No Way Sis may be appropriate. We don't like the idea of our favorite Rock Stars riding in those things.
We'll let you deal with the details as you see fit. However, if we were their publicist, we would send out the following press release (rough idea, all essentials included).

FOR IMMEDIATE RELEASE
March 15 (The St. Ides), 1998
For More Information Contact: Mussolini.

OASIS AT THE OASIS
MIDNIGHT JULLANDER SHEAR
Beware the Aguas de Marco!
Oasis will appear "live by the sea" in Rio (Oh mee-oh, oh my-oh). Unlike the Great Train Robber before them, these lads have all the cash they need. "We want more!" Said Noel Gallagher. And he wasn't kidding. "But more of what", you may ask. Spiritual enlightenment? We think not. Villification is more like it.
For example, when Oasis came up with the idea of singing "I am the Walrus", they did it because no one else would ever dare to do such a thing. And if you think that was outrageous, wait 'til you see what they've got planned next! (We suggest a version of "A Day in the Life" dedicated to Princess Diana….but you don't want to divulge that in this press release -ed.). Mother Theresa! Now who was she? Oasis has probably done more good for mankind with just one hit record than all of Mother Theresa's 75 years of service in India. At least Oasis created a lot of jobs for publicists, editors and paparazzi….not to mention Rolls Royce manufactureres.
The owner of the Churrascuria Oasis, when asked how he felt about the world's most ill behaved youngsters since the Sex Beatles coming to dine at his restaurant replied:
"Only the happening groovy people dine at Oasis. And, if I remember correctly they seem like loveable lads. However, if it's true that they once ate a meal and threw it up on Sunday, they had better not dine here on Super Sabado, for that is Fejoada day. I don't think their wee British stomach's can take it although…it probably isn't too much different from that haggis they eat over there."
####
Anyway, you see where this is going. You can fill in the remaining four journalistic Ws (who, what, where, when…we've already provided the "Why") when you know those details.
We have some other valuable information which you should know. First of all, Brazilians are "gonzo" for the Beatles. There's a great Beatles cover band that plays every night in a bar called Peoples in the Leblon district. They are truly fab! They don't speak a word of english, but they know the words to every Beatles song ever written. You need to hire them for your press parties.
Secondly, you need to call your HQ "Watery Fowls: The Hostile Hostel". Theoretically, the phones should be manned by ill-tempered Yanks (that's us). That way you Brits can hear the words Hostile and Hostel pronounced exactly the same.
We hope you take this free advice. We don't usually give away great ideas like this, but in this case, we want to see it materialize so badly that we almost don't care if we get none of the credit.
Are Oasis bigger than The Beatles? Surely you must be joking. However, if you follow this simple plan they will be bigger than Christ in Rio!
Sincerely,
The only American Oasis fans that get it!
P.S. We've conducted a great deal of scientific research on the Anti-Oasis phenomenon in this country. Generally speaking, it's the people who hate Oasis the most that end up liking them the most.
P.P.S. We speak Portuguese and make great hosts for arriving paparazzi in Rio, the City by the Sea.